About This Site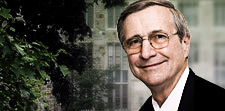 Peter Kreeft, Ph.D., is a professor of philosophy at Boston College and at the King's College (Empire State Building), in New York City. He is a regular contributor to several Christian publications, is in wide demand as a speaker at conferences, and is the author of over 67 books including:
Handbook of Christian Apologetics
Christianity for Modern Pagans
Fundamentals of the Faith
Speaking Requests
To invite Dr. Kreeft for a talk, please fill out the Speaking Request form. Previously scheduled dates are below.
Because of the high volume, Dr. Kreeft has elected not to receive email feedback through the site. However, other comments can be directed to the webmaster, Dave Nevins.

You are also welcome to read a
Message From the Webmaster
Speaking Engagements
01/25/13
Fri
Charismatic Gifts; Sacred Heart Major Seminary, Detriot MI
01/26/13
Sat
Life Is A Gift Confernce Detroit, MI
02/01/13-
02/02/13
Fri-Sat
Oklahoma Catholic College Student Conference on Evangelization
03/02/13
Sat
Washington D.C. (Arlington Diocese Men's Conference; Herndon, VA)
03/23/13-
03/24/13-

Sat-
Sun
Vero Beach, FL; Saint John of the Cross Church
04/20/13
Sat
Casper, Wyoming, St. Patrick's Catholic Church
06/08/13
Sat
Toronto www.CatholicChapterHouse.com
06/29/13-
06/30/13
Fri-
Sat
Family Conference
07/26/13
07/28/13
Fri-Sun
University of Steubenville
08/01/13-
08/03/13
Thu-
Fri
Assumption College in Worcester,
Massachusetts; on G.K. Chesterton
11/20/13-
11/21/13
Wed-
Thu
http://www.biola.edu on Story
02/15/14-
02/16/14
Fri-
Sat
Campus Ministry, Tulsa, Oklahoma
on Evil/Suffering
03/01/14
Sat
Mens Conference Venice, FL
04/26/14
Sat
Bioethics Seminarl Fort Myers.
Last Updated: April 30, 2013 0:58 AM