About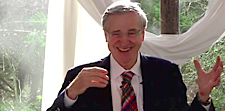 Peter Kreeft, Ph.D., is a professor of philosophy at Boston College. He loves his five grandchildren, four children, one wife, one cat, and one God. His 75 books include:
Handbook of Christian Apologetics
Christianity for Modern Pagans
Fundamentals of the Faith

Free Audio
YouTube Excerpts — NEW
Pope Francis and Charismatic Links
charismatic.peterkreeft.com — NEW
Speaking Requests
To invite Dr. Kreeft to talk at your event, please fill out the
Speaking Request form. Some dates already taken are listed below.


Note: Because of the high volume, Dr. Kreeft has elected not to receive email feedback through the site. However, other comments can be directed to the webmaster.
2015 Speaking Engagements

Last Updated: December 17, 2014